Happy Tails

---
Odin's Story
120lbs to love!
At the young age of 2, Odin ended up at an Ontario animal shelter when someone found him after he was left behind when his owner became homeless. As part of the #EmptyOntarioShelters campaign, Odin was taken in by TEAM Dog Rescue and placed in a foster home with a lovely young couple who had been searching for a while for a large dog to add to their family. At almost 120 lbs, Odin fit the bill.
It was love at first sight and he quickly settled in with his foster parents, Mel and Oliver. Everyone was amazed to see a sweet, well-adjusted pup who – despite being abandoned – had not lost his faith in people. Although Odin was overall in good health, he had a chronic ear infection and skin issue on his legs which took months to resolve. It wasn't easy to administer all the topical meds he needed because of some of that infamous rottie stubbornness, but his foster parents dealt with it with patience, love and hard work (and a little stubbornness of their own). It was no surprise when they said that they couldn't let him go.
Thus, Odin found the perfect pawrents and a home where he is truly spoiled, and lavished with attention and blueberries!
---
Mitchell's Story
A Survivor
TEAM is proud to be one of the rescues that is trusted to care for some of the most medically challenging dogs across Canada and Mitchell was no exception.
Mitchell is a beautiful 5 year old boy who was left to roam free in the reservation areas of Manitoba. Not having access to regular food, he did the next best thing: ate anything he could find.
Unfortunately one of these morsels was infected with giant kidney worm eggs, and now, so was Mitchell. The worms took over. The only way to remove them was to remove a kidney, so that is what we did. This was a very difficult surgery and not one but several worms were found.
Mitchell's recovery was plagued with problems, resulting in the surgeons having to go back in a second time. A blood transfusion and heart stabilizer were also needed, just to give his body a chance to heal.
But thankfully, it worked!
TEAM spent over $10,700 in vetting costs to ensure that we would see Mitchell return to be his happy ol' self, playing and singing. Mitchell is doing wonderfully and most importantly, he has found his furever family!
---
Sadie's Story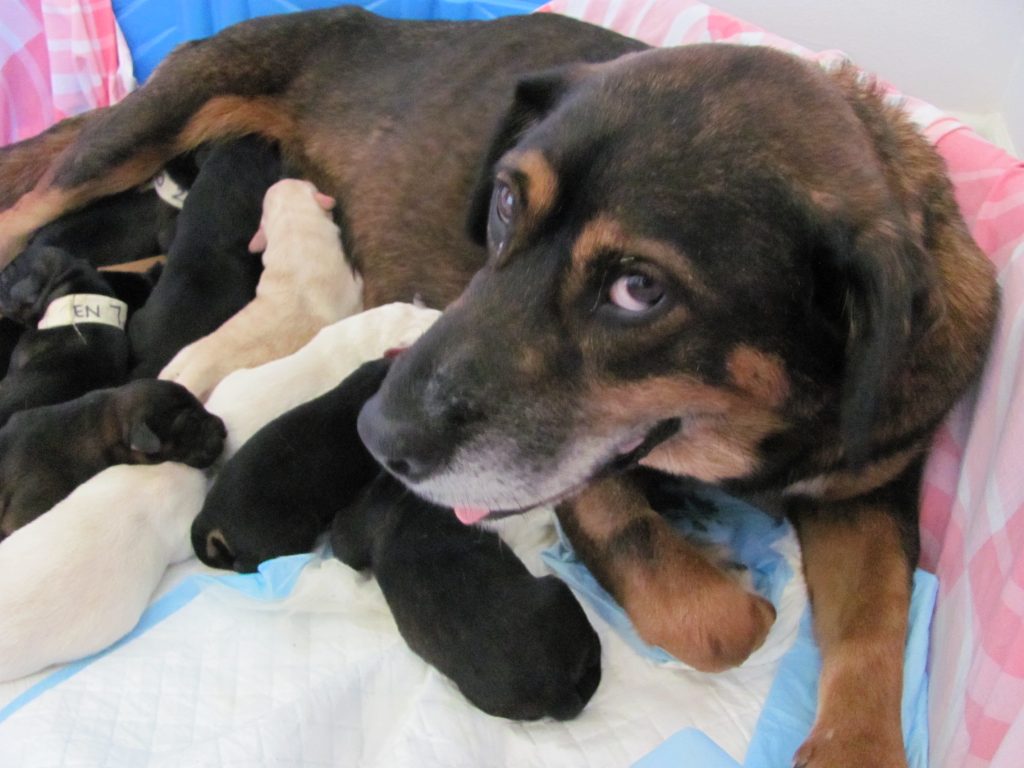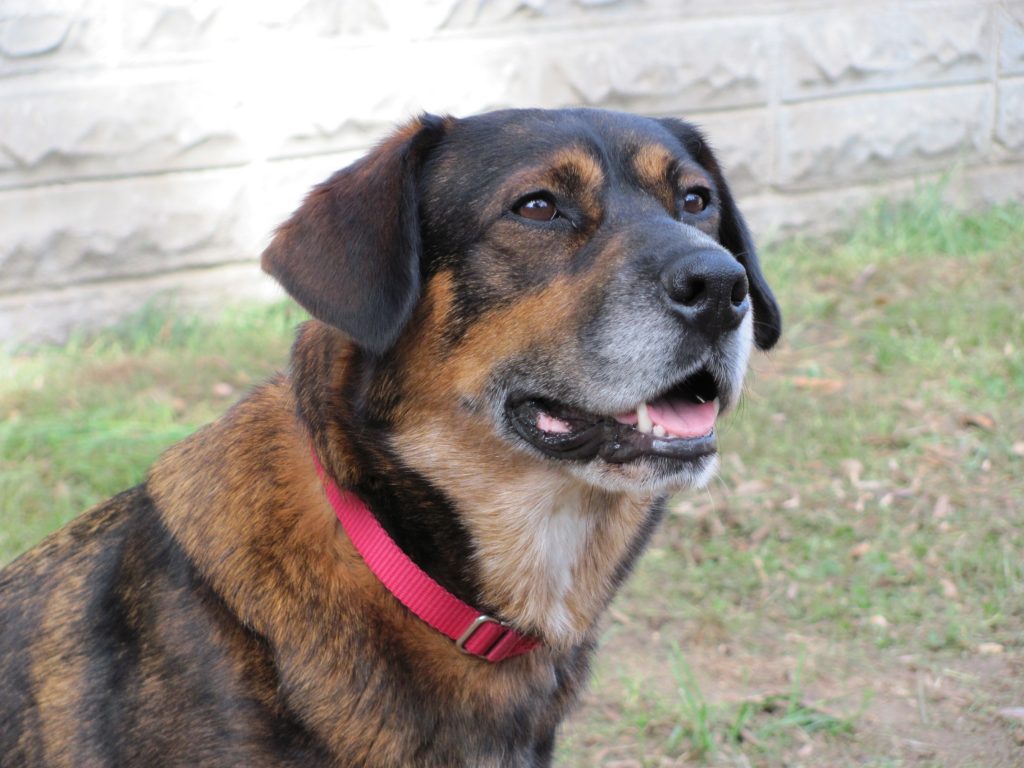 Surprise! We're having puppies!
Sadie arrived from Winnipeg after she was found in a dire situation on a reservation. She was in danger as the property owners wanted her gone ASAP. She had several unwanted litters, recently had a miscarriage, tested positive for Lyme, was severely under weight and had an old femural break.
We had her immediate medical needs addressed and then scheduled her for her spay. We received a call from our vet with the news… SURPRISE! Sadie's pregnant. We absolutely could not believe it. To our utter amazement, she was in hard labour for over 5 hours and bore 10 puppies, a record breaker for sure. Under weight and drained of all energy, she was the perfect mother to her pups. She fed, cleaned and kept them all warm until she could no longer. Sadie developed mastitis and was in so much pain she could no longer feed her pups. We knew it was time to tend to her needs and that human intervention was necessary for both her and her pups. Sadie was removed from the pups she so lovingly cared for so we could now care for her. Antibiotics, constant hot and cold compresses, pain medication and love finally gave Sadie relief from her pain.
Sadie recovered and despite all her misfortunes, she is a wonderful, sweet and gentle girl. She will no longer have to deal with the physical toll of being a puppy machine. For the first time in Sadie's life she now gets to enjoy life as a dog should. A comfortable life without pain. Sadie walked right through the front door to a wonderful family she can call her own, plus a cottage for summer retreats, and all the love and attention any dog could ask for. It's been a struggle her whole life, until now. Sadie is home forever!
---
Nadeen's Story
From Bahrain to life as a "big sister" in Canada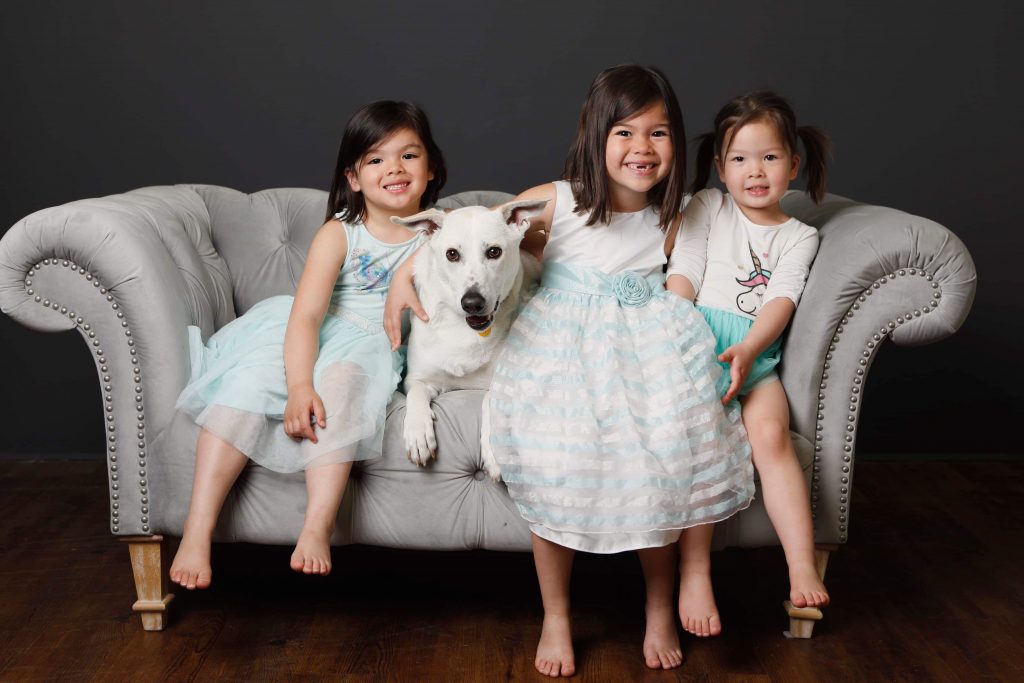 There are so many stories of civilian canine abuse in other countries and each story is unique. Here is Nadeen's.
Two years ago, our rescue partner in Bahrain got an emergency call about a mom and her pups, who were being stabbed by some local kids. By the time she arrived, Nadeen had multiple wounds, eight of the nine pups were dead and she was immediately taken to the emergency clinic. Released several kilometres away after being treated, Nadeen returned to the original site, looking for her pups, and then the decision was made to rescue this young mom. How does one heal a broken dog? Time, love, patience and exemplary care! Months later, at the onset of winter, Nadeen arrived in Canada. After settling into foster care, Nadeen found her family, with three young girls, a feline sibling and a backyard.
This sweet gentle soul now knows nothing but a warm home, family love, and a full belly. Nadeen took awhile to adapt to our Canadian climate, but embrace it she did, and this former desert pup now enjoys all her family adventures through all four seasons.
---
Shiloh's Story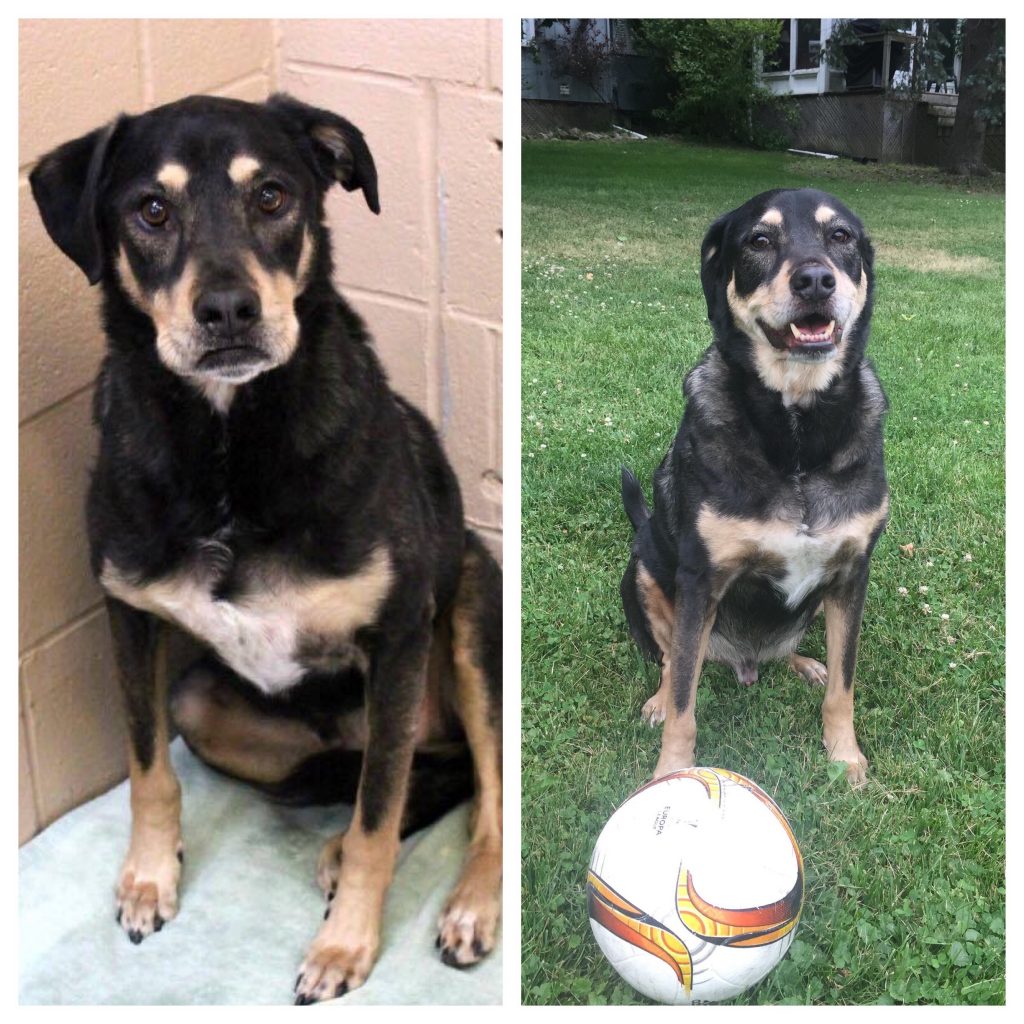 After three years of waiting in a shelter, Shiloh is home!
Shiloh came to us from Hilton Head, South Carolina in October 2017, after spending more than 3 years in the shelter.
He was surrendered by his owners when they moved into an apartment that would not allow dogs. Having no luck being rehomed, Shiloh headed north and joined our rescue.
It took less than 3 weeks for Shiloh to find his utopia.  Now, Shiloh spends his days on a farm with horses, pigs, goats and rabbits.  Since his adoption, Shiloh has gained 3 other siblings, all senior rescues!
---
Roxie's Story
How this special girl found an equally special family.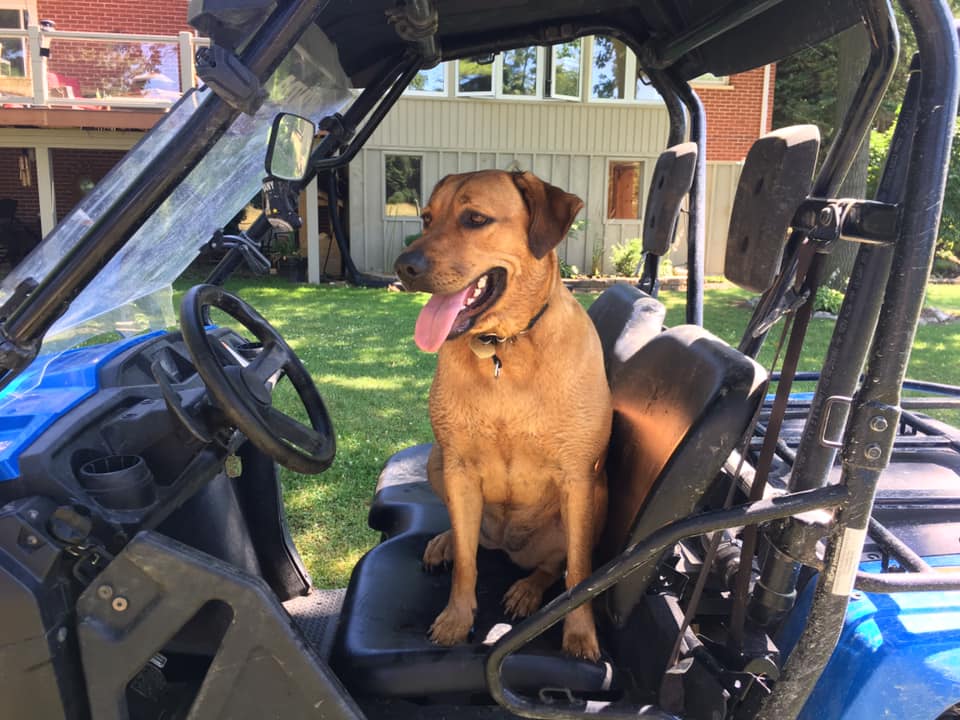 From the moment we met Roxie, we knew she was a special girl who would need a very special family. She had a difficult past – one of instability and abuse – and, as a result, was instantly distrustful of new people. We dreamed of Roxie's perfect family: one that would be loving, patient and dedicated to helping her reach her full potential. But never in our wildest dreams did we expected Mike & Mychelle to come along!

While usually unsure of new people, the moment Roxie met her new parents, she acted like she'd known them her entire life. The moment she stepped through their door, it was as if she knew she was "home."
Roxie has gone from mistreated and homeless, to living on a beautiful 25+ acre property – the kind every dog dreams of! She has hiking trails, cows, chickens and even an older sister named Elsa (a rescue dog herself) to show her the ropes. She loves riding in the family truck, playing fetch and keeping an eye out for squirrels on the property. And she has a soft spot on the bed to curl up in each night (after a hard day's 'work' on the farm).
Most importantly, she finally has a family of her own – one that exceeded all our hopes and dreams for her!