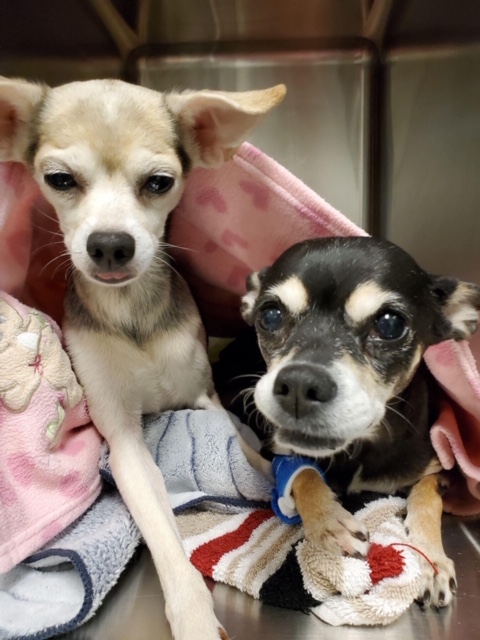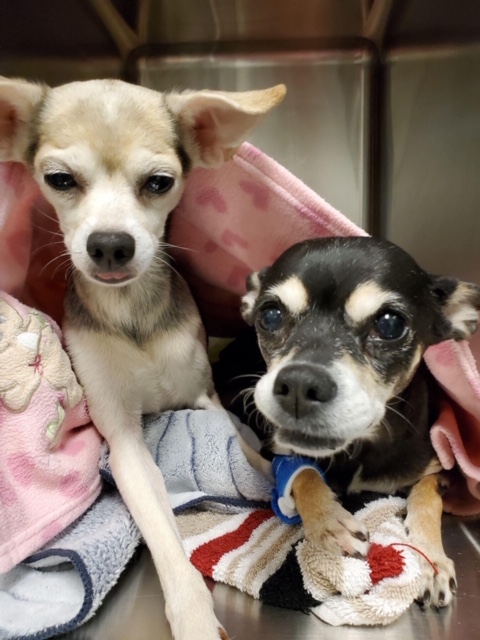 Minnie and Dexter
Breed: Chihuahua
Gender: Female
Age: 10 years
Weight: Minnie 10 – 12 pounds and Dexter 8 pounds
Needs: No small children and someone home more often than not
Minnie and Dexter are two, ten year old chihuahuas, surrendered to a shelter as their owner was no longer able to care for them.
They are shy at first, when meeting new people but do warm up with time. Dexter will be comfortable with new people faster than Minnie. Both are affectionate, Dexter loves to crawl into a lap and give kisses. Minnie is happy to be by your side or nearby. Minnie does rely on Dexter for comfort and support.
Minnie and Dexter are low maintenance dogs. They are fairly low energy, and love to spend their days sleeping or grooming one another, enjoying the comfort of their foster parent's bed at night. One of their favourite things to do, is to burrow under blankets to sleep. If you call their names, they worm their way through and their little heads poke out. It is sooo cute!
They are trained to use pee pads inside, and will also go during walks. Minnie and Dexter get cold very easily as they are so small, and if it is too cold, they will ask to be picked up, and carried. They have no resource guarding issues, and enjoy eating from the same bowl.
As Dexter can get snappish if he feels he is being mishandled, we recommend there be no young children in the home. Most of the time, however, they are very gentle. Due to social distancing, it has not been possible to test them with children.
At this time, the foster parents feel both have separation anxiety, as Minnie and Dexter do get very vocal when left alone. As the foster parents are both working from home, at this time, they have not been able to test them, for longer periods. For this reason, we feel a home, where the furever family is home more often than not, is important for them.
They are fine with other dogs, however, they are not great with keeping their boundaries, as they are so comfortable with each other. They assume all other dogs will be just as comfortable with them invading their personal space, which is not always the case. If there are other dogs in their furever home, they would need to be laid back, and fine with Minnie and Dexter snuggling up to them in their personal space.
Minnie and Dexter have now been cleared medically, and are ready to move to their furever home. They are being adopted together as they are bonded, depending on each other for support and comfort.
Fill out an application for Minnie and Dexter!